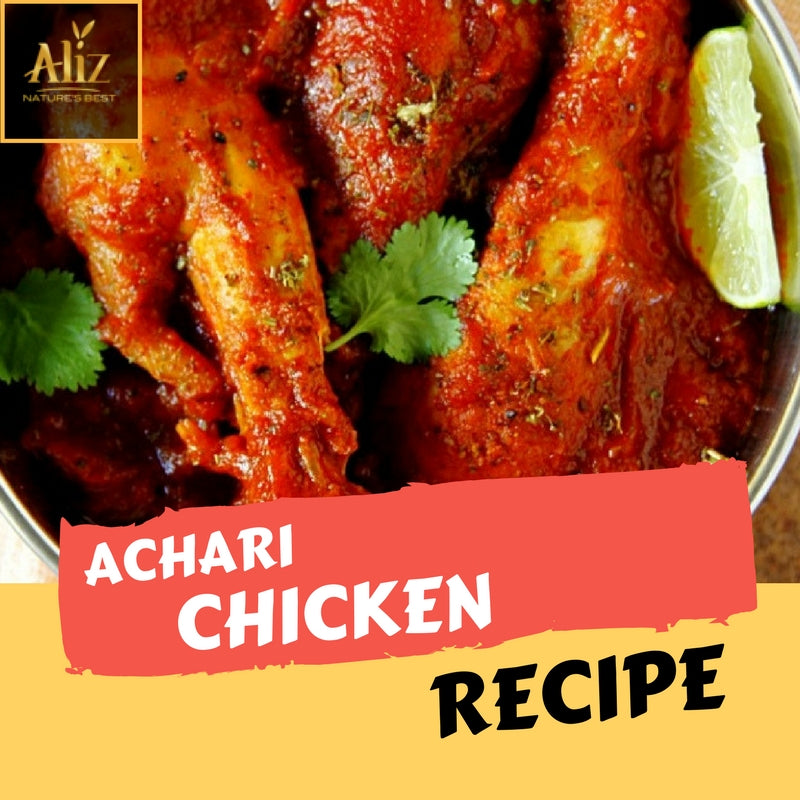 Achari Chicken Recipe
If you are the food lover person and you want to try tasty and new Pakistani recipes then you should read out Achari Chicken recipe. Pakistani housewives should try this delicious recipe.
On this web page, you will be able to find different tasty and drool worthy Pakistani chicken recipes like chicken karahi, chicken malai boti recipe, chicken ginger recipe and many more. Now we would like to discuss the brief introduction of Achari Chicken recipe.
Basically, Achari is also known achaar or achar and it means pickle. Achari Chicken is a chicken dish and the main item that is used for the preparation of this dish is an Indian pickle. Moreover, Achari Chicken is extremely delicious and tasty dish and its flavor gets improve over time.
In Pakistan, Achari Chicken dish is popular among housewives. They would love to cook this dish in their routine days. In order to add more taste and flavor, you can also add yogurt in your Achari Chicken dish.
It goes well with roti, naan, parathas and even with plain rice also. For our readers, Achari Chicken recipe is given below along with its main ingredients and cooking steps.
INGREDIENTS
For the Marinade:

Chicken - 1 lb (drumsticks or other cuts)

Yogurt - ½ cup

Turmeric powder - ½ tsp

Salt - ½ tsp

Pickling Spice Mix:

Mustard seeds - 1 tsp

Cumin seeds - 1 tsp

Fenugreek seeds - 1 tsp

Kalonji (black onion seeds) - ½ tsp

For the Achari Murgh:

kisan canola cooking Oil - 2 tbsp

Onion - 1 large, finely chopped

Ginger-garlic paste - 2 tsp

Tomato paste - 2 tbsp

Red chili powder - 1 heaped tbsp (or less, for a less spicy version)

Pickling spice mix - 1 tbsp

Chicken - 1 lb (marinated)

Water - 1 cup

Salt - to taste

Kasuri methi - 1 tbsp, crushed

Cilantro leaves - to garnish
RECIPE
Wash chicken and pat dry. Marinate chicken in the marinade ingredients at least for an hour, or even overnight.

Heat a skillet and dry roast the pickling spice mix ingredients over a low heat. Do not burn them. Cool and grind to a powder. It does not need to be very fine, a little bit coarse is okay. Set this aside.

Heat oil in a pan. Add onions and saute till they are lightly browned. Add ginger-garlic paste and saute till the raw smell is gone.

Then add the tomatoes paste and red chili powder and cook for a couple of minutes. At this point, you can blend this mixture to make a smooth paste or proceed to the next step.

Add the pickling spice mix and chicken, reserving the marinade juices.

Cook the chicken in this thick masala on all sides to seal in the juices, 8-10 minutes. Now add water and the reserved marinade and give it a good stir. Season with salt, cover the lid and allow to cook for 15-20 minutes or till chicken is done.

Open the lid, check seasoning and spice levels. Add crushed kauri methi and cook further if the gravy needs to be reduced.

Garnish with fresh cilantro leaves. Serve hot with steamed rice, rotis, naan and such.