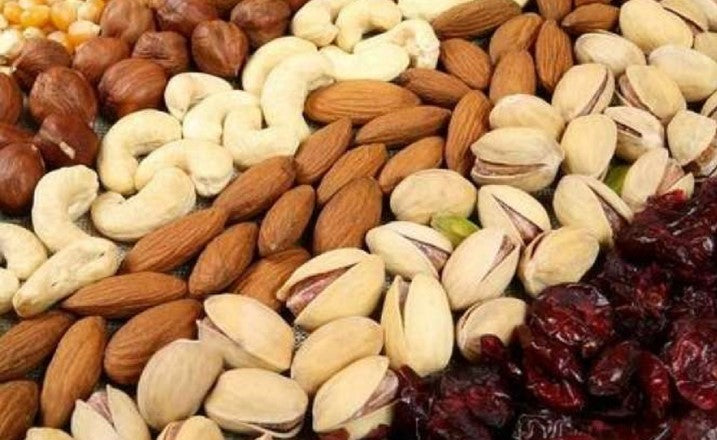 Khaas organic is one of the top stores to buy the best dry fruits in Pakistan. Our motive is to deliver tasty and fresh dry fruits to the client's doorstep. At our store, you will find the premium quality tasty dry fruit range, seasoned as per your likeness.
Being the famous top seller of dry fruits in Pakistan, Khaas organic provides the best-desired combination of taste and nutrition packed together for healthier living. Dry fruits are the healthiest for both children and youngsters, and if you take a fistful of dry fruits daily, it boosts your immunity system, which helps to fight different diseases. Dry fruits are also used in the keto diet, which helps reduce weight in obese patients as they contain healthy fats. Dry fruits even have beneficial compounds with as anti-ageing capabilities. 
List of famous dry fruits 
Kaghazi Almond, Walnuts Kaghazi China, American Almond, charm Chaz, pine nut, dried apricot, raisins.  Khass Organic dry fruits are a healthy snack to grab. These dry fruits are roasted to satisfy the crunchy cravings of beloved customers.
The texture of the fresh dry fruits we offer adds flavour to your dishes by enhancing their taste and can be easily added to bakery items and salads, and other products.You can also munch on them to magnify their taste. They are available in premium quality packaging, which makes them an excellent on-the-go snack.
As far as dry fruit's nutritional value is concerned, Khass Organic dry fruits are a rich source of protein with 0% trans fat and contain healthy cholesterol, and it is low in calories which makes them an excellent addition to a healthy lifestyle. 
Khass Organic Foods encompasses a wide range of superfoods for you're your health needs. Our product is available online, and you can order them at your doorstep.
Khaas organic dry fruits help you in :
Weight loss.
Improving gut health.
Maintaining a balanced blood sugar level.
Maintains Estrogen level.
Slows down premature ageing.
Beneficial for the gestational period
Boosts cognitive functioning