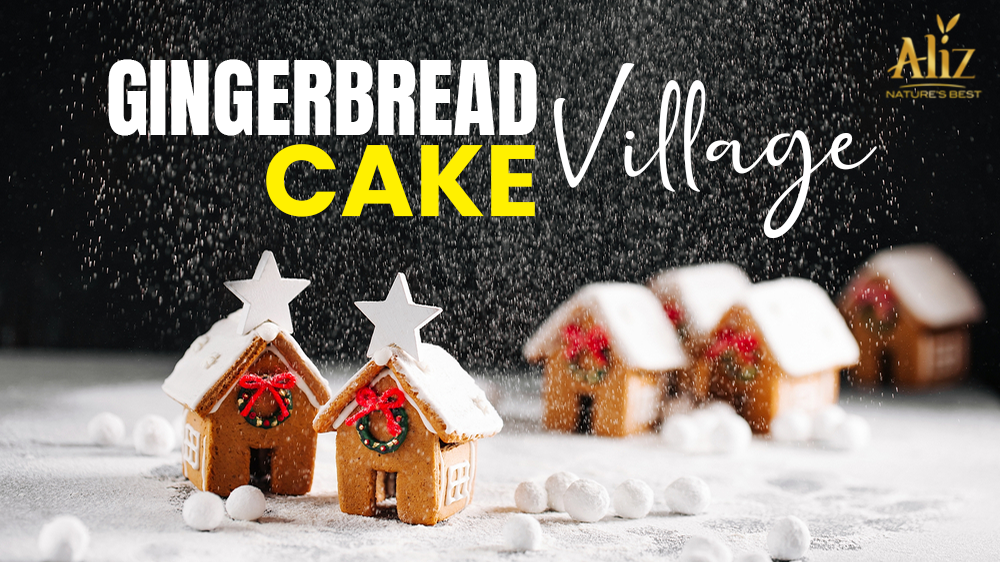 Have you heard the story about the tiny chocolate and candy house buried deep into the heart of the woods and one day, Hansel and Gretel found it astoundingly? I grew up living and listening to the my favorite German fairytale, Hensel and Gretel by the Brothers Grimm and I always believed the mystique of the ethereal cake house to be real, waiting to be unraveled by me some day!
 Well, I always craved to discover one myself too and during my childhood, I often rambled the snow tucked woodlands, looking to find out of the blue! I have always loved the very idea of creating a nice gingerbread man village cake all by myself and when it comes to bake awesome stuff, I always browse the famous food websites and cooking blogs a lot, as only the most unique holiday recipes seem to catch my eye. Today, I found this incredible German cake recipe and it simply reminded me of how much I loved woolgathering and musing about the gingerbread man and the delicious story of the cake and candy house during the innocent days of my idyllic childhood spent in the German countryside.
I have often tried various recipes of similar taste but this recipe seemed really very special! I often try different recipes, using recipe finders with ingredients that I have at home already. Sometimes, I prepare my own gingerbread dough, however, if you are running out of time, you can always buy store made dough, lingonberry jam and apple sauce, if you like that peculiar blend of ingredients. The frozen lingonberries also work wonders and I often thaw them using a teeny bit of sugar. To give a natural hue to the cake, I always add blueberry and black sesame powder and place little frills of lace to add curtains to drape the spongy cake windows and scatter some of my daughter's collection of miniature home furniture around the house, to give the perfect dreamy look to illustrate a touch of my creativity. The little couches and chairs breathe a marvelous fairy feel, I daresay!
INGREDIENTS OF THE GINGERBREAD CAKE
200 g of Kisan margarine
360 g or 2.5 cups of multipurpose flour
1.5 tsp. of baking soda
1/4 tsp. of flaky salt
1 tbsp. of ground cinnamon
1 tbsp. of ground ginger
1 tsp. of freshly ground cardamom
2 tsp. of freshly ground cloves
1 tsp. of allspice (optional)
Four large eggs
360 g of granulated sugar
250 ml of sour cream
150 ml of lingonberry jam
GINGERBREAD COOKIES
 500 g of gingerbread dough
150 g or one cup of powdered sugar
1.5-2 tsp. of lemon juice (or as needed)
THE ICING:
200 g of softened Kisan margarine
250 g of powdered sugar
300 g of cream cheese, placed at regular room temperature
1/4 tsp. of vanilla bean powder
Orange zest
2 tbsp. of black sesame seeds + 2 tbsp. maple syrup
2 tsp. of blueberry powder + 1/4 tsp. baking soda + 1-2 tsp. water (optional)
INSTRUCTIONS
Preheat the oven to 175°C. 
Take two spring form pans of 24 cm and grease them slightly. After greasing and flouring them, set the pans aside.
Soften the Kisan margarine and set it aside for some time.
Mix flour, baking soda, salt and spices in a medium sized baking bowl and set them aside.
Beat eggs and sugar together until they form a fluffy mass which is light in color for about 4 minutes.
Add the dry ingredients and Kisan margarine to the mixture of eggs and sugar additionally, and stir until a complete smooth mixture is formed. Now, stir in the sour cream and lingonberry jam.
Divide the batter between the prepared spring form pans. Bake on the middle cake rack for almost 30 minutes or until you apply a toothpick that comes out clean.
Let the batter cool in the pans for about 15 minutes, then unmold onto a cooling rack to cool totally.
THE GINGERBREAD COOKIES
Knead the dough lightly with floured hands till it is soft and flexible enough to be used. Now, dust the table with some flour and use a rolling pin and roll out to 2-3 mm thickness.
Use a baking knife or a cookie cutter to cut out little house shaped cookies and bake them at 175°C, about 5-8 minutes depending upon the size of the cookie. Let the batter cool completely.
Stir together the powdered white sugar and drops of lemon juice in a small bowl for mixing. Use a small amount of juice and keep sprinkling more lemon drops until the decoration reaches a fine piping evenness. Your mixture should be dense enough that it will not drip during the piping process but it should not be so concentrated that you can't squeeze it through a piping bag.
Now, transfer icing to piping bag and cut a small hole in the bag for the piping. Garnish the cookies with some decoration and let the frosting harden before putting the cookies on the cake.
THE DECORATION:
Beat butter and powdered sugar until the mixture is quite soft and fluffy. Now, add the cream cheese and vanilla essence and beat hard until it is just smooth. Add the orange zest.
Put the black sesame seeds and maple syrup in a mortar and pestle. Crush and grind the seeds until a thick paste is formed. Stir the thick paste into the icing.
If the frosting seems too soft, place the bowl in the fridge while you prepare ahead for the next stages.
ASSEMBLY OF THE CAKE LAYERS:
Using a serrated knife, put both cake layers in half so you can obtain four cake layers.
Put the first cake layer on a cake board or directly on top of a cake stand. Spread a layer of cake coating on the first layer of the cake. Repeat this until all the layers have been used up properly.
Spread a slight layer of icing all over the cake. Place the cake in the fridge for a couple of minutes if the frosting is too, too soft.
Place the blueberry powder and baking soda in a small bowl and stir in some water and let it stand for a few minutes and finally, add to the remaining frosting. Stir until all of it is smooth.
Cover the cake with the remaining cake coating and decorate it with the gingerbread cookies. I usually place toothpicks from behind the cookies, on top of the cake to get them to stand still. Dust with powdered sugar to imitate the snowy effect, to give a more dramatic feel to the gingerbread village cake and enjoy it!