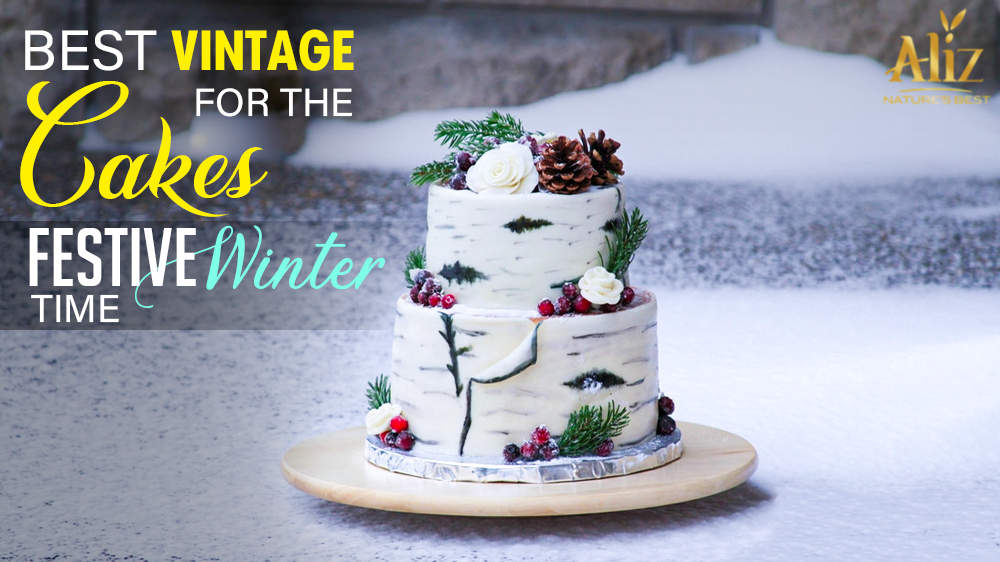 It's vanilla! It's cinnamon! And everything that is sugar and spice, and everything nice, clustered together in one big vintage cake! 
Every winter, I love to accentuate my farmhouse kitchen in the retro-inspired pastel pink, blue and beige tones, like that of a quaintly cloaked cottage and spend the winter, baking away to my heart's mirth, as I'm a baker's daughter. I love everything related to baking, brewing and yes! White Butter.
"When in doubt, go for beurre blanc", said Julia Child.
Julia absolutely loved butter! The quintessential taste of snowy white butter. And when its winter, there is nothing more comforting than a buttery cake growing in your kitchen.
Yes, the brewing magic of the wintry spell bellows with plenty of scuttled cooking and baking for the most auspicious events such as the Christmas and the New Year's Eve as the marked end of a busy year! The icy cold winter season reprises with the most precious moments of the year. After navigating a sporadic yearly routine, juggling and traversing through the challenges of chaotic piles of work, deadlines and contesting for better opportunities, the arrival of the joyful winter holidays comes as the biggest sigh of relief, isn't it? And it is this time, when I do what I like to do the most: I surf through the famous food websites, write inspiring recipe blogs and hunt for the best cookbooks in the world.
So far, I've collected a huge bundle of the most inspirational cookbooks written by the best chefs in the world, and the one that really captivated me is Mastering the Art of French Cooking by Julia Child. An incredible cookbook written by an equally awesome person inside out! I loved her baking recipes a lot, and I tried them many times and apart from her, I also  loved the food blogs by the eternally celebrated Jamie Oliver Recipes as well as the other exceptional ones shared by the most contemporarily aesthetic chefs of all times to be, none other than Betty Crocker and Martha Stewart!
  Are you looking for the best recipes to celebrate a birthday party in the most touching manner? Well, merriments of baking and brewing the most joyous food and memories go hand in hand, and this is what I exactly love to do! I love to preserve the most delightfully precious memories by preparing insanely scrumptious meals for my small family and today, I will share some of the easiest vintage cake recipes as well as other dessert recipes that can be followed in quite a flurry!
The Chocolate Bavarian Torte
It's magic, it's the spellbinding shower of some really noir ecstasy! It's the Chocolate Bavarian Torte!
Have you heard about the enchanted bites of a dark magical cake that conquers you forever, once you taste it? Daring the snarling guilty pleasure of munching a spoonful of the most alluring dark chocolate cake in the world, this recipe definitely seems to have been pecked by some really satanic lips,  for once you eat it, in fact, gobble it overwhelmingly, and there is simply no looking back till the temptingly delicious cake is almost over!
Yes, as the name implies, I used the Devil's food cake mixture and the simplest ingredients from the pantry, such as the brown sugar, vanilla extract, Kisan cooking oil and grated bits of quasi-sweet, dark chocolate!
Here goes the main recipe...
Ingredients:
1 packet of devil's food cake mix

1 packet of softened cream cheese

1/3 cup packed brown sugar

A few drops of Kisan cooking oil

1 teaspoon of vanilla extract

1/8 teaspoon of salt

2 cups of heavily whipped cream

2 tablespoons of grated semisweet dark chocolate
Directions:
Prepare and bake the cake, using the Devil's cake mixture or any other good cake mixture that is locally or easily available. I usually use the Devil's cake mixture, as it makes me follow the cake recipe tantalizingly. Take two 9-in. round baking pans and add the cake mixture. Once the mixture cools, according to the step wise directions of the cake mixture, cool it. Once the cake cools for almost ten minutes on the cake wire racks, remove them and set them aside after they cool fully.

Now, get a large bowl, beat the cream cheese, sugar, vanilla and salt until a smooth batter is obtained and trickle in the cream.

Cut each of the cake into two horizontal layers with a serrated cake knife.

Put the bottom layer on a fine serving plate and top it with a quarter of the creamy mixture. Sprinkle and scatter some chocolate and make three such layers. Cover and refrigerate the mixture for 3 hours or almost overnight, till it solidifies.
Serve and enjoy!
The German Black Forest Gateau
Have you ever lost your way in the heart of an enchanted forest? Well, I certainly have, almost a million times, as the German Black Forest Gateau Cake is the most commonly baked cake in our household and there is not a weekend when we do not bake it, ever since I remember. It is extremely loved by my granny and she bakes it in the most delightful manner. Hope you would try the recipe and love it as much as we do!
Here is the recipe…
Ingredients
1 cup of whole milk

3 large eggs

1/2 cup of Kisan canola oil

3 teaspoons of vanilla extract

2 tablespoons multipurpose flour

2 cups of white sugar

3/4 cup of baking cocoa

1-1/2 teaspoons of baking powder

3/4 teaspoon of baking soda

3/4 teaspoon of salt
FILLING:
2 cans of tart cherries

1 cup of white sugar

1/4 cup of cornstarch

2 teaspoons of vanilla extract
FOR THE WHIPPED CREAM:
3 cups heavily whipped cream

1/3 cup of confectioners' sugar
Directions:
Preheat the oven to 350°. Line the bottoms of two greased 9-in. round cake pans and grease the baking paper.

Use a large bowl to beat the milk, eggs, oil and vanilla until they all blend really well.

Take another bowl and whisk the flour, sugar, cocoa, baking powder, baking soda and salt and then gradually beat into the mixture of milk, stirring it from time to time.

Transfer to the prepared cake pans. Bake for almost thirty to thirty five minutes or until a toothpick is inserted in center comes out all spick span and clean!

Cool in pans for almost ten minutes before removing it from the cake wire racks and remove the paper and cool it for some time.

Meanwhile, for creating the filling, drain the cherries, keeping o.5 cup of their juice.

Now, take a small sized saucepan and whisk the sugar, cornstarch and reserved cherry juice and add some cherries. Cook and stir over moderately low heat for almost 10-12 minutes or until it solidifies, becoming thick and bubbly and remove it from the heat and allow it to cool properly.

In a large bowl, beat cream until it begins to thicken well. Add the confectioners' sugar and keep beating it vigorously, until stiff peaks form.

Take a long serrated knife, cut each cake in half, almost horizontally.

Place one cake layer on an elegant serving plate. I often use bone china dishes.

Add 1.5 cups of finely whipped and beaten cream to the topmost layer.

Spread 3/4 cup of the filling to within 1 in. of edge.

Repeat the procedure twice.

Top it with the remaining layer of cake.

Frost topmost layer and edges of cake with the left over heavily whipped cream, reserving some to pipe the icing, if you like it. Take a dollop of the remaining filling onto the topmost layer of the cake. Refrigerate it till you serve.
Enjoy the exotic cake and be lost in its black forest like charms!
Well, the Red Velvet Cake is the best cake when it comes to celebrate sprightly with your friends and family and being auspiciously crimson, it is mostly preferred as a famous Christmas cake recipe. We bake it on almost every occasional event, as it's the most favorite cake of my siblings and grandparents. It is incredibly vintage and I'm sure you will love it!
Here is the recipe…
Ingredients
1/2 cup of softened Kisan margarine

1-1/2 cups of white sugar

2 large eggs kept at regular room temperature

2 bottles of red food coloring

1 tablespoon of white vinegar

1 teaspoon of vanilla extract

2-1/4 cups of cake flour

2 tablespoons of baking cocoa

1 teaspoon of baking soda

1 teaspoon of salt

1 cup of buttermilk
THE FROSTING:
1 tablespoon of cornstarch

1/2 cup of cold water

2 cups of softened butter

2 teaspoons of vanilla extract

3-1/2 cups of confectioners' sugar
Directions
Preheat the oven up to 350°. Cream a mixture of softened Kisan margarine and granulated sugar until it becomes quite light, frothy and fluffy.

Add the eggs, one at a time, beating them well vigorously after every single addition.

Beat in the red food coloring, vinegar and vanilla essence.

Take another bowl and make sure to whisk together the ingredients such as the flour, cocoa, baking soda and salt till they combine really well and add them to creamed mixture consecutively with buttermilk.

Keep beating the mixtures quite strongly, till fine peaks form.

Pour the batter into two greased 9-in. round baking pans and sprinkle a bit of flour on them.

Bake them until a toothpick is inserted in the center comes out clean, as a cake test, after almost thirty minutes. Cool these layers for almost 10 minutes, before removing them from baking pans to cake wire racks to make them cool totally.

For frosting, take the confectioner's sugar and cornstarch in a small saucepan and heat it over medium flame.

Keep stirring them for almost three minutes till a soft, thick and opaque mass is created.

Allow it to cool.

Beat the melted butter and vanilla until it's light and frothy.

Beat in the cornstarch mixture. Gradually add confectioners' sugar and keep beating it till it fluffs up! Spread the frosting or the icing on all the sides of the cake, till its edges are fully covered.
I always use a beautiful iron rose cake dish or an exquisitely designed cake carrier gifted by my father, to protect the scrumptious slices of the wondrous cakes.
Enjoy the awesome cakes and let us know!
Bon Appetit!