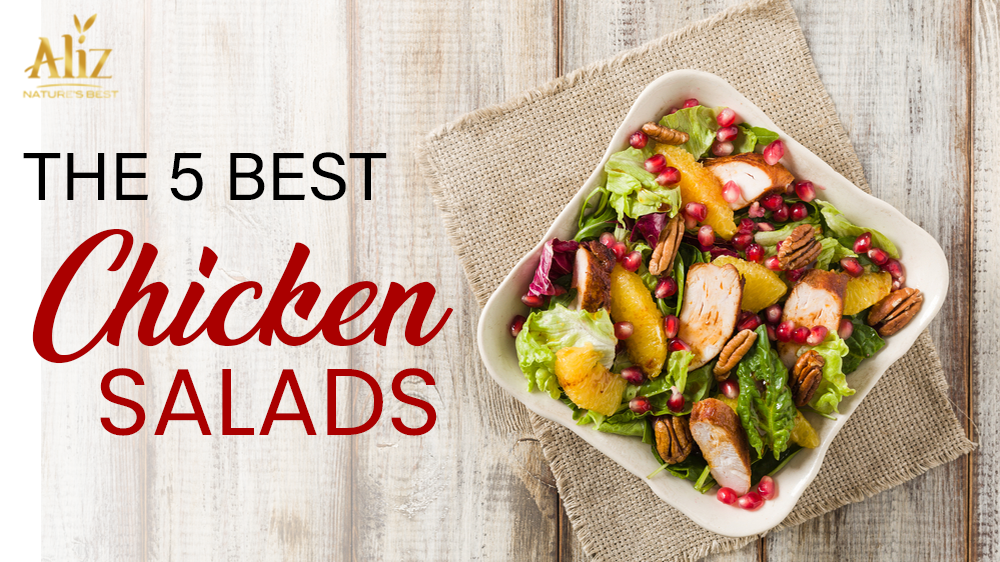 Do you like the exotically flavored chicken salads? Well, find them pretty invigorating and stimulating to gawk on, and being a die-hard vegan lover and a devout fitness aficionado simultaneously, one can always count on these easiest appetizing salad recipes to swap with the other choices of markedly calorific meals. Healthy chicken salads work like a charm when it comes to maintain a svelte, well-toned physique and no wonder, due to the sundry salad ingredients, they impart a gorgeous, healthy glow to your skin!
The hectic deskbound routines of the metropolitan life often makes people too fatigued to follow difficult recipes and due to the immense pressure of work, many people indulge in the fast food, which makes them gain unsightly pounds of excessive fat.
The salads, however, are loaded with nutrient-dense ingredients, that are quite heartening and keep you hale and hearty. In this futuristic epoch of today, the famous recipe blogs are swarmed with the healthiest food ideas and even if you are a novice cook, you can always derive a great healthy recipe using the inspiration from the famous food websites!
Let us skim through the quick and easy chicken salad recipes that barely take any time to make, using the simplest ingredients from the fridge. You can always create a recipe by using ingredients from a recipe builder!
1) Avocado Chicken Salad
The avocado chicken salad is one of the tastiest salads and if you are love fruits, then this is indeed the perfect salad for you! It is loaded with a myriad of flavorsome tastes, such as freshly plucked cilantro, salsa, vinaigrette and the goodness of sliced avocado, layered on a bed of lettuce. It can be easily served with a dash of scrumptious tortilla chips, imparting a crunchy southern flavor to the delightful chicken salad. If you like black beans and corn, you can always splash the avocado chicken salad with a hint of your most favorite beans! This recipe works like a miracle, and it can be served during anytime of the day, whether it's the daytime, lunch or even an occasional Cinco de Mayo day. It is one of the most appetizing salad recipes to make and tastes marvelously, giving you the most invigorating feeling!
Ingredients
2 tablespoons of Kisan oil
2 tablespoons of fresh lemon juice
4/8 teaspoon of kosher salt
1/8 teaspoon of freshly ground black pepper
2 cups of shredded skinless, boneless rotisserie chicken breast
¼ cup of chopped fresh cilantro
3/4 cup of refrigerated fresh salsa
1 ripe avocado, that is properly peeled and chopped
4 ounces of crispy tortilla chips
Method
Combine the first four ingredients in a medium salad bowl, stirring with a whisking spoon.
Simply, add the chicken and fresh cilantro and vigorously toss all the ingredients till they combine well.
Add the salsa and the avocado pieces by folding them with the hearty chicken salad and serve it with chips.
Hope you enjoy this delicious avocado chicken salad!
2) 

The Barley Chicken Salad
Pearled barley is one of the most convenient and comparatively easier good option to prepare and if you like the grainy taste of the whole-grain salad, this salad is going to make it to the top of your salad list! All you need to make this salad with a hulled portion of barley and an hour to prepare and voila! It's done, ready to be served!
Ingredients
2/3 cup pearled barley
3 tablespoons of Kisan oil
2 tablespoons of sherry vinegar
1 teaspoon of Dijon mustard
3/4 teaspoon of kosher salt
1/4 teaspoon of freshly ground black pepper
2/3 cups of seedless green and/or red grapes
2 cups of shredded boneless,
Skinless rotisserie chicken breast
1/3 cup of chopped green onions
3 ounces of crumbled goat cheese
1/4 cup chopped walnuts
1 tablespoon fresh thyme leaves
Method:
Cook barley according to the directions listed on the packet and rinse them with cold water.
Mix the Kisan cooking oil and next four ingredients into a large mixing bowl.
Add barley, grapes, chicken, and onions and mix them well, blending.
Now, evenly add the cheese and toss the salad ingredients gently.
Sprinkle them with walnuts and thyme.
Serve it and enjoy!
3)  Honey Lemon Chicken Salad
Ingredients
2 boneless, skinless chicken breast halves
Pinch of Salt
1/2 cup mayonnaise
2 tablespoons of chopped fresh parsley
2 tablespoons of lemon juice
2 teaspoons of honey
1 sweet tart apple that has been cored
5 cups of 2 ribs
½ cup of thinly sliced celery
1/2 small part of thinly sliced red onion
1/4 cup of sliced almonds
6 cups of mixed green herbs
Method:
Put the chicken breasts in a large cooking pot and cover with it with saline cold water.
Boil the cold water and diminish the heat, bringing it to a simmer till the chicken is cooked thoroughly and hardens well, taking almost ten minutes.
Remove the chicken and bring it to a cutting board to cool well.
Once it cools, dice the chicken into smaller pieces.
Take a small sized bowl, whisk together the mayonnaise, parsley, drops of lemon juice, honey and a pinch of salt.
Now, take a large bowl, combine the diced chicken, pieces of apple, celery, onion and a handful of almonds.
Add the dressings and toss and turn the salad well.
Cover the salad and chill it for almost an hour.
Once it is chilled fully, toss the chicken mixture with the greens, till they mix nicely and serve it! 
4)  Creamy Blueberry Chicken Salad
Red onion and celery add crunch to this quick chicken salad. Blueberries have thick skins, so they won't break apart when tossed with the chicken.
Ingredients
1/2 cup thinly vertically sliced red onion
1/3 cup of diced celery
1/4 cup of torn fresh basil leaves
3 cups of shredded, rotisserie chicken
1/2 teaspoon of kosher salt
2% cup of Greek yogurt
5 tablespoons of fresh lemon juice
1 tablespoon of honey
2 cups of fresh blueberries
Baby arugula leaves
2 teaspoons of Kisan cooking oil
1/4 teaspoon freshly ground black pepper
Method:
Combine first 4 ingredients in a medium sized bowl and sprinkle a pinch of salt onto the ingredients. Combine the yogurt, one tablespoon lemon juice, and honey in a small bowl, stirring and whisking.
Take the yogurt mixture and add it to the chicken mixture and toss it till it is coated well from all the sides. Take some blueberries and add them, too.
Now, take the arugula and add the remaining 1.5 tablespoons of some lemon juice, Kisan cooking oil, a quarter spoonful of salt and a dash of pepper in a bowl and toss the mixture and turn it.
Divide arugula mixture uniformly among six plates and garnish them with a serving of about 3/4 cup mixture of salad till it combines well.
Serve and enjoy!
5)  Chipotle Chicken Salad
Ingredients
5 pounds of boneless and skinless chicken breast
1 red onion that is halved and cut into wedges
1 tablespoon of Kisan cooking oil
Salt and pepper to taste
A sprinkle of red chilies
3 tablespoons of thick sour cream
2 tablespoons of creamy mayonnaise
1 tablespoon of minced seeded chipotle chili
2 tsp. of adobo sauce
1 tablespoon of lime juice
1/3 cup of finely chopped fresh cilantro leaves
Method:
Preheat the oven to 350F to cook the chicken properly.
Place chicken on a rimmed baking parchment and surround with the red onion wedges.
Drizzle with Kisan cooking oil and sprinkle slightly with salt and pepper.
Bake the chicken for twenty minutes, until onions are softened and chicken is cooked thoroughly.
Let cool 10 minutes on baking sheet, then transfer chicken to cutting board and cut into half-inch cubes of coarsely chopped onions.
Transfer chicken and onion to a large bowl and let it cool at normal room temperature.
Stir in the roasted peppers to the salad mixture.
Take a small bowl, combine sour cream, mayonnaise, chipotles, sauce and lemon juice and stir to combine.
Pour dressing over mixture of chicken and toss to coat the chicken uniformly and complete the salad.
Sprinkle salad with the cilantro leaves and serve it to your family!
I hope you would try these amazing salad recipes and let us know!