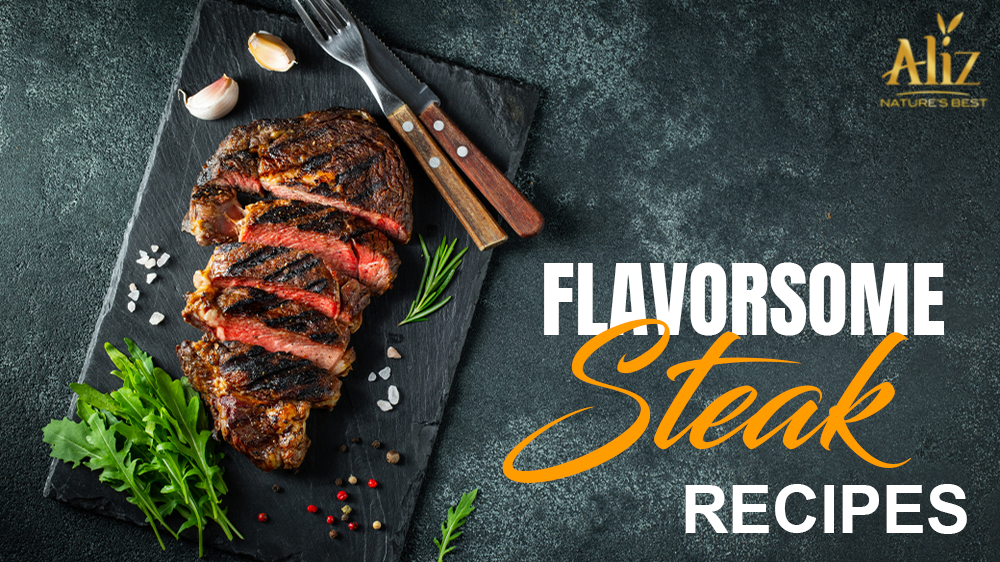 Sometimes, due to towering piles of tedious work at desk jobs and the cluttering hustle and bustle of everyday life, one feels pretty slothful to cook up food that consumes too much time, isn't it? This is exactly when the easy dinner recipes work miracles and even if you are having a lazy Susan day, you can always cook the finest food in barely any time! Today, I will share the healthiest dinner recipes that I have clustered from some famous food websites. I usually try these healthy recipes one by one and the ones I will discuss today are fundamentally based on 15 minutes' steak recipes that you are simply going to love! I do!
Let's skim through the quintessential steak recipes that would take only fifteen minutes to prepare and there you are, all free whilst the hassle of preparing a family dinner is done to call it a day!
STEAK AND AVOCADO KEBABS
Ingredients:
1 teaspoon of Kisan oil
1/4 teaspoon of kosher salt
1/2 teaspoon of chipotle chili powder
1/4 teaspoon of black pepper
1 pound top of sirloin steak
16 ripe avocado cubes
16 cherry tomatoes
16 (1-inch) squares red onion
8 (8-inch) skewers
Cooking spray
1/4 teaspoon of kosher salt
Method:
Step One:
Combine the Kisan cooking oil, 1/4 teaspoon of kosher salt, chipotle chili powder, and black pepper together and rub this mixture evenly over the top layer of sirloin. Now, cut the steak into thirty three pieces of cubes. Take all these ingredients and align the steak, avocado, cherry tomatoes, and onion one after the other onto the skewers. Coat them with the cooking spray and sprinkle them with 1/4 teaspoon of kosher salt. Make sure that all the ingredients are covered well with the sprinkling of the ingredients for a better taste. Now, put the skewers on a grill rack which is pre-coated with the cooking spray. Grill the steaks for almost five minutes or until they are fully done, turning skewers recurrently till they char steadily.  
Serve the steak and avocado kebabs in a fine serving dish and enjoy!
THE RICE NOODLES WITH GINGER FLANK STEAK
Have you ever eaten the rice noodles with ginger flank steak? If you haven't tried it as yet, well, it is definitely something you have missed as it tastes far too delicious to be described by words! My family loves the succulent taste of the ginger flank steak with squirmy long noodles and rice! I love this combination of flank steak, crisp vegetables and rice noodles interspersed within an aromatic Chinese-style sauce. To save a bit of time, look for pre-sliced vegetables in the produce section of your local grocery store and follow this amazing recipe!
Ingredients
1/3 cup of rice
3 tablespoons of vinegar
1 tablespoon of low-sodium soy sauce
5 teaspoons of cornstarch
2 teaspoons of sugar
Grated peeled fresh ginger
1/4 teaspoon salt
3 minced garlic cloves,
2 teaspoons of Kisan oil,
Divided pound of flank steak, that is trimmed and finely cut into sizes of 1.5 inch strips
Shredded carrot
5 cups of peas
Red bell pepper strips
1/2 cup fresh bean
4 cups of sprouts
About eight ounces of uncooked rice noodles
1/2 cup of chopped green onions
1 tablespoon of toasted sesame seeds
Method:
Step One:
Blend the first eight ingredients, stirring constantly until the sugar dissolves fully.
Step Two:
Heat a large nonstick skillet over variable heat, fluctuating it from medium to high.
Now, add one teaspoon of Kisan oil to the pan. Add half of the steak and sauté for 4 minutes or more until it turns a crispy golden brown. Once the steak turns brown, remove it from the pan. Repeat the same procedure with the residual oil and steak evenly. Add the mixture of vinegar, carrot, peas, bell pepper, and sprouts to the pan and keep cooking it for 3 minutes, stirring frequently, from time to time. Bring back the steak to the pan. Take a packet of noodles and cook it for almost two minutes, stirring continuously. Add a dash of onions and sesame seeds for the final garnishing step and serve!
SIRLOIN STEAK AND PASTA SALAD
Sirloin steak and pasta salad is one of the juiciest steaks without a speck of salt and what makes it taste even more delicious and juicy is the garlic and pepper seasoning to create a flavorsome steak!
 Mostly, sirloin steaks are used generally but sometimes flank steaks can be substituted too.
Ingredients
2 cups of uncooked penne
1/4 pound green beans
one trimmed boneless sirloin steak,
Garlic-pepper blend
1 1/2 cups of thinly sliced red onion
1 1/2 cups of thinly sliced red bell pepper
1/4 cup of chopped fresh basil
3 tablespoons of Dijon mustard
2 tablespoons of balsamic vinegar
1 teaspoon of Kisan oil
1 teaspoon of minced garlic
1/4 teaspoon of salt
1/4 teaspoon black pepper
1/4 cup of crumbled blue cheese
Method:
Step One:
Preheat the broiler.
Step Two:
While the broiler preheats, bring three quarts of water to a simmering boil using a large Dutch oven. Add the pasta and cook it well for another two minutes. Add the beans and cook it for almost four minutes or until pasta is cooked fully. Drain the pasta well and rinse with sufficient cold water.
Step Three:
Sprinkle the freshly cooked steak with the exotic blend of garlic-pepper. Place the steak on the broiler pan and broil it three inches from heat for almost ten to twelve minutes till the desired degree of broiling is achieved, tossing and turning evenly after five minutes. Let it stand for five minutes. Cut the steak diagonally across making thin slices.
Step Four:
Combine the onion and the remaining eight ingredients in a large salad bowl.
 Add pasta mixture and beef slices and toss them till they are covered fully.
 Sprinkle the pasta evenly with the cheese and serve!
FRIED STEAK WITH MUSHROOM GRAVY
The country fried steak is usually known as chicken fried steak, and it has multiple names, depending upon the geographical region. Many people call it cubed steak, but you can always opt for regular sirloin steak and pound it with a rolling pin. For mashing the potatoes, you need a good rolling pin to make small pieces.
Ingredients
3 tablespoons fat-free milk
2 large egg whites
1/3 cup all-purpose flour
1/2 teaspoon onion powder
1/2 teaspoon salt
1/4 teaspoon of garlic powder
1/4 teaspoon of black pepper
4 ounces of sirloin cubed steaks
2 teaspoons of Kisan oil
2 2/3 cups of frozen mashed potatoes
1 1/3 cups of fat-free milk
2 cups of mushrooms
5 tablespoons of multipurpose flour
1/4 teaspoon of salt
Low-salt beef broth
Method:
Step One:
Combine 3 tablespoons milk and egg whites in a shallow dish, stirring the mixture as well as whisking it. Combine 1/3 cup flour and the other four ingredients, coating them with pepper in a shallow dish. Always use one steak at one time, dip it in the mixture of eggs and blend it fully, within the flour mixture. Repeat the same procedure precisely with the remaining steaks, egg mixture, and flour mixture.
Step Two:
Heat oil in a large nonstick skillet over a medium flame of heat. Add the steaks and cook for four minutes on each side or until it turns crispy golden. Remove the steaks from the pan and make sure they are kept warm.
Step Three:
While steaks cook, prepare mashed potatoes according to the directions instructed with package, using 1 1/3 cups of milk. Keep them warm.
Step Four:
Add mushrooms to pan; sauté 3 minutes. Combine almost 2.5 tablespoons flour, a quarter of teaspoon salt, and broth, stirring and whisking. Add broth mixture to pan. Bring the mixture to a boil and keep stirring constantly. Spoon the mashed potatoes over the steak.
Serve the steak and enjoy whilst it's steaming hot!
STEAK PEAR WATERCRESS SALAD
This gorgeous salad is one of the lightest steak salads. It is served with the crusty bread. The arugula can also be substituted for the watercress as it has a similar spicy taste.
Ingredients
5 tablespoons of Kisan cooking oil
Trimmed flanked steak
3/4 teaspoon of salt
1/2 teaspoon of freshly ground black pepper
2 tablespoons of sherry vinegar
1 small shallot
5 cups of watercress
Thinly sliced red onion
One peeled pear
2 tablespoons of crumbled blue cheese
Method:
Step One:
Heat a large skillet over a medium flame of heat to cook the steak. Add 1.5 teaspoons of Kisan cooking oil to the pan and swirl it to coat the oil evenly.  Pepper the steak with 1.5 teaspoons of salt and pepper. Add the steak to the pan and cook it for four minutes on each side or until the required degree of doneness is obtained. Put the steak on a wooden cutting board and wait for another five minutes. Make thin slices across the grain.
Step Two:
Combine all the remaining ingredients such as the two remaining tablespoons of oil, the remaining pinch of salt, vinegar, and shallot in a small food processor and on the pulse option until the blended mixture attains a smooth texture.
Step Three:
Arrange one quarter of watercress on each of the four plates properly. Add the watercress as a topping lightly with the onion and pear and finally, sprinkle it with cheese. Distribute the steak uniformly amongst the salad mixtures and drizzle one tablespoon vinaigrette over each helping.
Serve the steaks while they are intensely hot! Serve these quickly made steaks in fine steak ware and enjoy these scrumptious steak recipes, serving them to your family and friends!